Celebrity pet photographer Grace Chon on taking the perfect photo of your pet
If you are anything like me — a doting pet parent with a relentless need to constantly photograph every adorable pet moment I experience, then your smartphone isn't filled with selfies and sunsets but rather TONS of photos of your furbabies… your pet after getting groomed, Fido laying on his bed, and another of Fido laying on his bed because this time his paws are crossed… I'm always snapping photos of my furbabies and sharing them on social media. Yes, I am that person and proudly so. That said, I reached out to celebrity pet photographer and dog owner herself, Grace Chon, to share with us some of her tips on how to snap a pawesome pet photo. Here is what she had to say…
1) Follow the Light
Always shoot where you get the best light. Usually this ends up being with your dog facing a window, which I like to call "glamour lighting" because your dog ends up being evenly lit in the front and the background can drop off into darkness. Natural light is always much more important than location! If your place is nice and bright, try to keep indoor lights off to avoid having a sickly yellow color-cast to your images.
Photo Credit: Grace Chon
2) Models Like to Eat
Forget dry dog biscuits – use high reward treats like dehydrated meat snacks or boiled chicken breast. Always reward positive behavior like sitting still or looking directly into the lens, and give small morsels to keep the shoot fun and your pup motivated and engaged. Treats are great for controlling eyeline too – hold it where you'd like your pup to be looking in the shot, and after a few frames pay your model for his hard work with a tasty bite. If you want your dog to look into the lens, hold the treat right above the camera lens. If you want him looking above or out of the frame, hold the treat where his eyes should be.
3) Make Some Noise
To get shots of those adorable head tilts and perked up ears, try making some funny sounds to get your dog's attention. The trick is to make each sound sparingly and move onto the next one once your dog grows tired of it because new sounds get old really fast! Other things you can use are whistles, kazoos, crinkly plastic bags and squeaky toys. You can also try saying your dog's favorite words. Some sweet talking might get you some irresistible looks.
Photo Credit: Grace Chon
4) Shoot Fast and Furious
Be sure to take lots and lots of frames. That way you can be sure to capture a shot that's in focus and with your dog looking where you want, doing what you want. And when you shoot a lot of frames, you end up getting images that you never could have thought of shooting. Amazing moments happen in a fraction of a second!
5) Change Your View
Try seeing your dog from a completely different angle. Have them lounge on a chair and photograph them from below. Try laying down in the grass and shoot up at your dog. If you try to see their world from a completely different view, you'll end up with creative and interesting shots that tell your dog's story from an unusual perspective.
Photo Credit: Grace Chon
6) Use Props
Add a fun flair to your shots by using toys and other props. Get goofy with things like sunglasses, wigs, funny hats, and maybe even a heart-shaped helium balloon tied to your dog's collar. If silly isn't your style, you can incorporate more meaningful props like your dog's favorite toy. Select props that tell your dog's story. For example, if your dog likes swimming, try taking a shot with her in a baby pool wearing an inflatable water ring around her waist. Is he a big couch potato? A TV remote near his paws might be a fun shot.
7) A Meaningful Spot
It's always extra special if you can shoot in your dog's favorite location. Maybe this is their favorite chair, riding shotgun in your car, or at a local park. Not only will she be happy and relaxed, you'll capture moments that memorialize her in a place that's special to you both.
8) Up Close and Personal
Don't forget to take detail shots! Shoot a close up of your dog's nose, or a close up of their fur. Take a photo of their paw pads, or the curves of their velvety ears. Remember all the little details that make up your dog and photograph all the special places you love to kiss and adore. Even shots of their dog bowls, collars and leashes will someday make a very special memory.
9) Stage your Shot
Home staging can make your photos look polished and professional. Be sure to declutter the background, and bring in props like colorful pillows, a sheepskin rug, or fresh flowers to create a shot that looks stylish and finished. You can add some extra whimsy by decorating with pennant banners, paper garlands, confetti and balloons. It always helps to have some color coordination, so if your dog's collar or toys can coordinate with the decorations in your home, you'll look like you had an art director help you get the shot.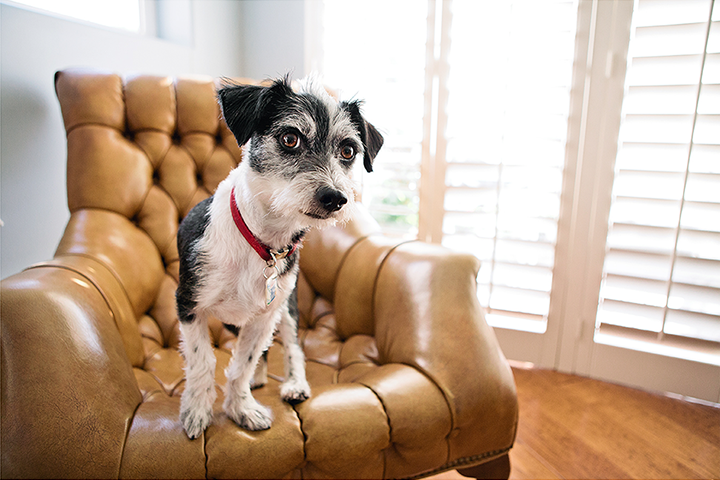 Photo Credit: Grace Chon
10) It's Peanut Butter Time
If you want to end up with a truly hilarious set of photos, give your dog a small lick of peanut butter and snap away. You're guaranteed to get funny photos of your dog's tongue doing tricks you never could have imagined. Be sure to start with a small amount so your dog doesn't get an upset stomach, and use unsalted peanut butter.
Grace is a commercial photographer specializing in animals, lifestyle images, and celebrities with their pets. When she isn't furiously editing photos during her son's nap time, she likes to garden and grow heirloom tomatoes.
In her spare time, Grace photographs homeless dogs looking for their forever homes and donates her photography services to dog rescue groups in Los Angeles. She lives in LA with her beloved rescue dogs Maeby and Zoey.
Source: Read Full Article