Quick and yummy tiffin recipes
Try these two quick and delicious tiffin recipes for Oats & Pancake and Besan Bread toast.
By Chef Gautam Chaudhry
Oats & Quinoa Pancake recipe
These are high protein and French-style pancakes. In this recipe, I have used a combination of two aromatic flavours, cinnamon and Vanilla, which complement each other very well. Serve these fluffy pancakes along with honey or maple syrup. You may add some berry compote on top of the pancakes which will further enhance the "fruity touch".
Serves: 4
Pancake
Ingredients
Oats 1 ½ cup | Quinoa ½ cup | Whole eggs 1 | Baking powder, a pinch | Cinnamon powder 2 gm | Non-fat milk 1 cup | Vanilla extract ½ tsp
Topping: Banana
Method:
Soak Quinoa for 15 minutes and then boil it in limited water which the quinoa can absorb.
Grind oats to powder and take it in a bowl.
Add the whole egg and beat it well.
Add the rest of the ingredients and form a batter.
Take a non-stick pan and pour the batter to form small pancakes.
Before turning the pancakes, sprinkle boiled high protein quinoa on top.
Once the base is seared well, then turn it upside down.
Serve hot with a dash of honey or maple syrup and some fruits.
Besan Bread Toast recipe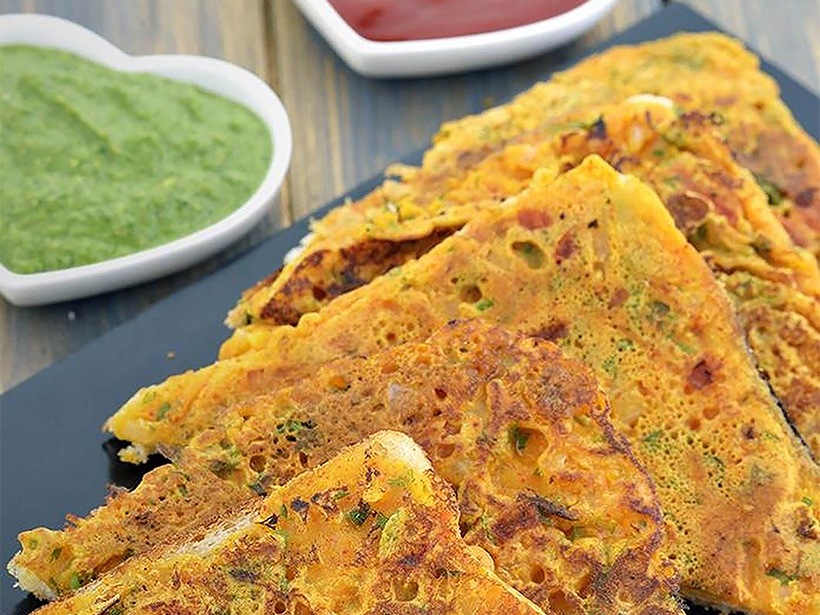 Ingredients:
Bread Slices 4 | Besan 4 tbsp | Salt to taste | Green Coriander 20 gm | Garlic 1 clove | Crushed Black Pepper 5 gm | Baking Powder 1 pinch | Oil 2 spoons
Method
Finely chop green coriander and wash well.
Finely chop the garlic clove.
Take all the ingredients except bread slices and make a thick batter with water.
Check seasoning and adjust as per your taste.
Dip the bread slices in the batter and leave for 2 minutes.
Take a non-stick pan and put it on medium heat.
Put the soaked bread slice on the pan and cook well turning the side.
You may choose to serve with tomato ketchup or mint chutney.
Source: Read Full Article