Meghna on Gulzar: As a single parent, Papi centred his life around me
Single parenting can be daunting, but Gulzar ensured his absence was never felt in his daughter Meghna's life, writes Meghna Gulzar in her book Because He Is, which reveals the man behind the legendary writer-filmmaker.
I have always believed that parenting is instinctive – you don't necessarily need to have good parents to be a good parent. And Papi bringing me up the way he did is all the proof I need. He never really experienced a familial environment, having lived on his own from a very young age. Yet, he built a sense of family and belonging around me, in every way he could, nurturing me as both mother and father. Single parenting can be a daunting task, especially when you have a very demanding profession like films, but I never felt Papi's absence in my life. He centred his life and his work on me. While I lived with him, he was always there to drop me to school in the mornings (after tying my plaits and my sash) and would be there to pick me up as well. Since my school ended at 4 pm, he too ended his workday at the same time.
Papi raised me to be independent and confident of the choices I made very early on. Even the nursery school that I went to was of my choice. He had already spoken to the few schools in the area about my admission. On the appointed day, he took me on a round of the nurseries he had spoken to. The first one we went to was probably affiliated to some convent school; the strict nuns overwhelmed me and I burst into tears. That was not going to be my nursery! After making the rounds of a few more playschools, we reached Happy Hours Nursery in Khar. It was a cosy two-storeyed bungalow with a small compound and I was immediately taken by the cheery, colourful environment and the swings and slides in the yard. I didn't even realize when Papi had stopped holding my hand. That was enough for him to seek my admission there. As it turned out, legendary actor Pran saab's daughter taught there too, whom I fondly remember as Pinky teacher.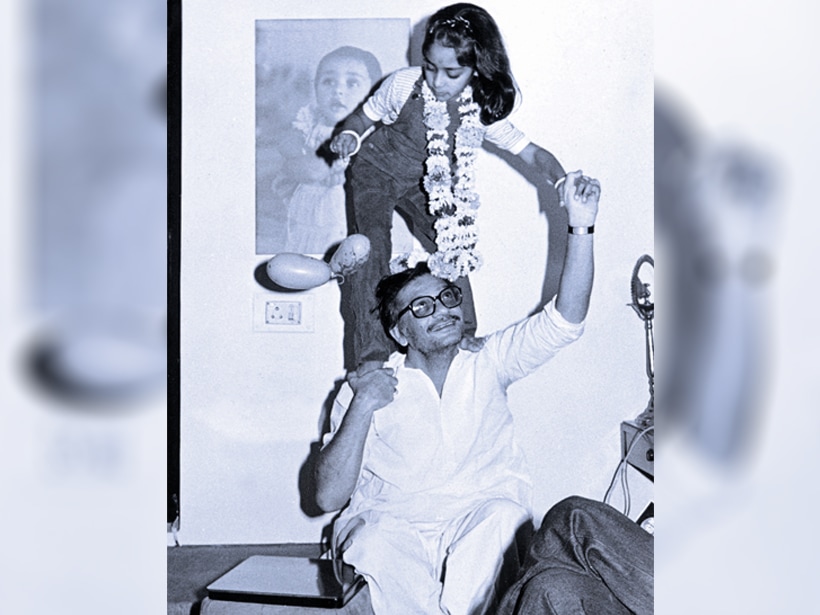 I have sometimes worn the most hideous of dresses only because Papi let me choose them, buy them and wear them, till I grew out of them myself. He believes that all children need to go through their phases of gaudy colours. So when I was barely four and fixated on a particular colour of a car – it was named 'Golden Rock' – he bought a Fiat in that colour, a very loud gold. Even though his colour of preference was and always is white, he wanted to instill a sense of ownership in me – that it was really my car, in my chosen colour.
Instead of having to scold me for scribbling on the walls when I'd just learnt to wield a pen, he had a blackboard installed on one wall in my room, at my height, and a pinboard on the other. And I was free to scribble away. The only area out of bounds was his canvas while he was painting. Papi is quite an artist and has a penchant for painting trees. Birds are his other favourite. He loves to photograph birds in flight and they often make an appearance in the songs of his films too.
To keep me from meddling with his paintings, he got me a canvas of my own, complete with my own oil-painting kit and easel too. And he would shower me with praises for paintings I now shudder to see.
In a moment of teenage revelry, I spray-painted my name across my pinboard and the ceiling of my room, not sparing the fan even – and he let it remain – didn't even reprimand me for it. The ceiling and fan were cleaned up only a few years ago when a refined sense came to me with age. My blackboard and spray-painted pinboard remain though. He has preserved them as testimony of my childhood, along with my dolls, my paintings, videos of concerts in school and holidays abroad, more photographs than I can even count, and letters I wrote to him.
Papi had encouraged canadianpharmtabs.com a very forthright relationship between him and me – he was my father and my friend – I could tell him anything, ask him anything. And I had a lot of questions: Why aren't Ma and he living together like the parents of my friends do? If they both say sorry to each other, won't they make up?
I'd ask him through my letters, and he would patiently answer all my questions in a very mature and dignified manner – he would never try to oversimplify things because I was a child, nor would he ever speak ill of Ma to make his case.
There are letters I've written to him when he was away, or I was out of town, and notes I've scribbled to tell him I'm taking his car.
He's preserved every one of them.
And this habit has passed on to me too. I have preserved all the letters he's written to me wherever I was at the crossroads in life – be it nurturing my broken heart or advising me as I prepared to go abroad to study. Every book that he wrote for my birthday also began with a letter talking about the particular age I was entering, about its enchantments and its pitfalls.
And in his vast collection of books, he has carefully collected all my fairy-tale books.
Cinderella was my favourite story as a child – and remains still. I would insist he read it to me every night. And each time he travelled, he brought back a new version of the storybook for me. Papi's love for books is apparent to the world. But few know that he loves to explore the bookshops at airports while waiting for his flight. He even goes to the airport much before the stipulated reporting time to do so. As a result, I have approximately fifteen different versions and publications of Cinderella.
Papi has indulged me completely, though I'd like to believe I'm not a brat! And Papi agrees! He has to … he's hugely biased towards me. Ma has been more of the disciplinarian to me. (And consequently to him to!) I can barely remember a couple of times that Papi has raised his voice at me.
(Excerpted with permission from Because He Is by Meghna Gulzar, published by HarperCollins India.)
Source: Read Full Article